Welcome Bonus
$10 FREE

No Deposit Needed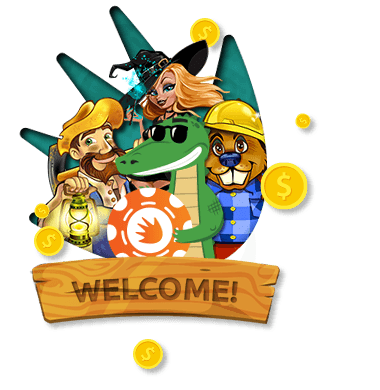 Your guide to PlayCroco online slots
So you want to become the fastest slot player in the Wild West of PlayCroco do you? Great! Because we reckon you've got what it takes to be an A+ online slots player!
Before you start shooting down jackpots and holding payouts for ransom though, there's a few things you need to know about online slots in Australia.
Great question! The term 'slot' is essentially just another name for a pokie. It's more commonly used terminology in the Northern Hemisphere, but we don't mind throwing it around in the Land of PlayCroco either.
This is where you'll find some of the most fantastic online slots in the world after all, so you better believe we know how to say pokie in more than one language. Although truth be told, we still have no idea how to say it in Croco's native language.
Are our online slots real money?
Do crocodiles love to bake their backs on the sunny side of a billabong's banks? Of course our slots are real money! The fact that you have a stake in the outcome of your session makes playing our real money slots a ball.
Of course, it nearly goes without saying that by playing pokies with real cash you can also win REAL cash. Just top up your account and pick your favourite slot. You can then nominate the amount of money you would like to bet per spin.
The higher your bet, the higher your chances of triggering a considerable win on our real money online slots. Just remember that low volatility slots pay out often but in small amounts, while high volatility slots pay less frequently but in larger sums.
How much could I potentially win?
We don't want to sound like a broken record because we say it all the time, but you really could win a lifechanging amount at PlayCroco casino!
In fact, we try to make winning big on our online slots in Australia easier than other web-based casinos. We do this by providing you with regular deposit and no-deposit bonuses, and by running generous promotions all throughout the year.
As for exact amounts, well that depends on the type of online slot you choose to play. Progressive jackpots can award tens of thousands of dollars in prizemoney, while fixed-jackpot pokies have been known to go $10k plus!
Even PlayCroco online slots that don't have jackpots can deliver the goods. Pokies such as Storm Lords come with a top award of 50,000-coins, while Vegas Lux can award you up to 240 free games. There are also online slots that we host with prize multipliers that can go as high as x6 and beyond…
What are the different types of online slot?
If you're the type of player that loves a bit of variety when it comes to your online slots, then you'll be stoked to know we have many different types on offer. Our current roster of real money online slots includes the following:
3-reel
5-reel
6-reel
Fixed jackpot
Progressive
Floating symbols
Specialties
These online slots also feature different themes to keep Crocos of all tastes entertained. One minute you can be fighting alongside Greek heroes from antiquity, the next you'll be helping an adorable banana-loving monkey uncover the secrets of a jungle temple!
Where can I find the best online slots in Australia?
Put down the binoculars and jam that map back into your pocket. It's no mystery where the best online slots in Australia are located… they're of course right here in the Land of PlayCroco! So pull up a pew, get comfortable and head on over to our main casino website today.
You never know how much you're going to win on your next spin. The only way to find out is to have a go! Check out our latest online slots and don't forget to redeem our Pokie of the Month or new game bonus offers!
Copyright © 2023 PlayCrocoOnlinePokies.com