Welcome Bonus
$10 FREE

No Deposit Needed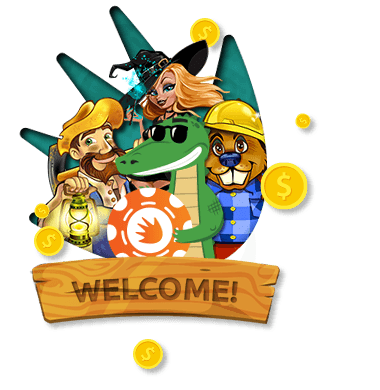 The best Australian online pokies
Australia has breathtaking beaches, mouth-watering meat pies and more radical reptiles than anywhere else on earth. But did you know that the best online pokies are also found in Australia?
This might be news to some of you. Here at PlayCroco casino though, we know a thing or two about casino games. We boast over 200 quality titles after all, with everything from popular online pokies to the best new releases.
If that doesn't have you licking your chops with excitement, you'll be thrilled to know PlayCroco is also a real money casino. That means you can win actual dollarydoos on the best online pokies in Australia.
For many of our loyal Croco members, playing with us is a win-win situation. Not only will you have fun trying beautifully rendered and insanely entertaining online pokies, there's always the chance your next spin will lead to a lifechanging win.
So don't bother looking anywhere else to find the best online pokies (and certainly don't head across the ditch to New Zealand). The best selection of casino titles lives right here at Australia's most beloved online casino.
Croco wants to play all of our online casino titles before he retires. The problem is that we have over 200 on our roster with a new game added every month!
Of course, Croco isn't going to retire for a long, long time. So he certainly has plenty of chances to play the best Australian online pokies at our casino. But if it's not too much to ask, we'd love it if you could help…
Simply head on over to the PlayCroco casino page if you're already member and check out our list of pokies. There are classic 3-reel titles for you to feast your eyes on plus newfangled game to make your jaw drop.
If you're one of the few people in Oz that still don't have a PlayCroco membership, you'll need to sign up first. All it takes is a few clicks of a mouse or a couple of taps of your thumb to become a BabyCroco.
Once inside you're free to pick and choose from any one of our progressive, fixed-jackpot, speciality and traditional online casino titles. Just remember to pick that jaw up off the ground before you finish up.
People come to PlayCroco for a few reasons. Hanging out with a cool reptile in Croco is one of them. Getting to eventually access all the juicy perks that with RoyalCroco status is another. But for sure playing the most popular online pokies in Australia is one of our biggest drawcards.
These online pokies are developed by none other than Realtime Gaming and they come with all the bells and whistles. Action-packed gameplay, original themes and even storylines that get you invested in the outcome can all be experienced on our best Australian online pokies.
Titles such as Cash Bandits 2, Plentiful Treasure, Diamond Fiesta, Dr. Winmore and 5 Wishes can all be found at PlayCroco. But that's not all. Online pokies such as Cleopatra's Gold, Asgard, Achilles and Aladdin's Wishes will separate the skilled from the rookies, the crafty from the cruisy.
Now if that sounds like we're throwing down a challenge, well, you can bet your scaly green butt we are. Don't worry though, we believe in you. Plus, you'll get plenty of chances to win big on the best Australian online pokies thanks to our many promotions and special bonuses.
Monopoly is a pretty fun game, right? Everyone loves to play it for a bit of lighthearted fun, but the fact that you're only ever playing with fake money is kind of a bummer. PlayCroco on the other hand is all about the best Australian pokies that offer real money wins.
By playing these pokies, you can actually score payouts so big they change your life forever. Even if you only pick up smaller wins, you'll still get to take home a little extra walking around money. And who doesn't like the feeling of a fat wallet in the back pocket, right?
We guess that what we're trying to say is that PlayCroco isn't just the home of the most awesome online pokies in Australia. It's the home of the most awesome online pokies in Australia that can also change your life!
All it takes is one deposit, one spin and one win for you to become our latest success story. The only question is, are you ready to experience online casino gaming like never before? Then join PlayCroco today to access the best Australian online pokies around.
Copyright © 2023 PlayCrocoOnlinePokies.com